5 Tips for Fresh Footwear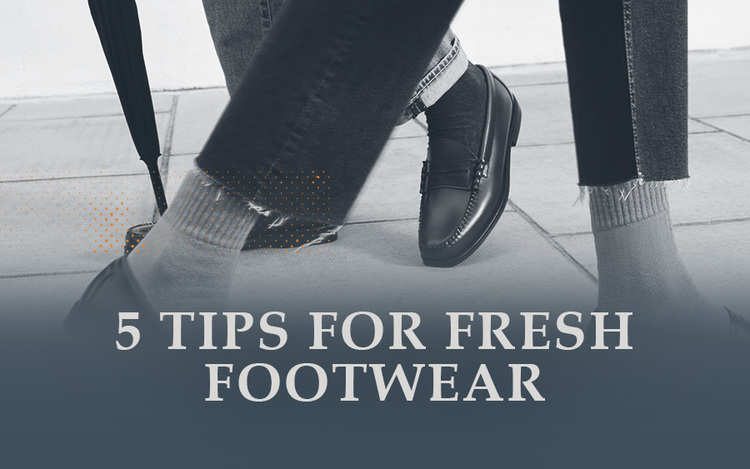 We all know that investing in high-quality footwear is so popular because this means it will last longer. But, what about taking measures to extend its durability yourself?
Yes, not only is investing in high-quality footwear important, but you should also be doing your part in keeping it clean and odour free to get long use out of them.
Today, we've got some tips and tricks to share with you all so that you can begin your footwear cleaning routine.
1. Moisture is the enemy
It is no secret that dampness is the destroyer of many things and unfortunately the same can be said for your footwear. This means that you'll want to ensure that you are storing your footwear in the best way possible. Your footwear needs enough breathing space therefore keeping them stored on shoe racks or well-aerated boxes is advised. Often, the original boxes that your footwear is packaged in contain sachets of moisture absorbers which is something you'll certainly want to keep if you intend to use the original boxes. 
Another good rule to have when it comes to keeping footwear dry is to ensure that your feet are dry before wearing them as well as airing them out after a long day of use before packing them away. This will prevent unpleasant odours from lingering and bacteria from developing.
2. Preventative Care Leads to Longer Wear
Often, it is impossible to completely avoid extreme weather conditions, especially since mother nature can be quite unpredictable. Hence why in cases such as these, applying protective creams and sprays to your footwear is encouraged!
These products provide a layer of protection for your shoes against outdoor threats such as heavy rain, scuff marks, mud, and the like. Always be sure to read the directions and warnings on these products before applying them to your shoe, and if you are still unsure, then don't be afraid to ask the employees for their advice on how to use the products.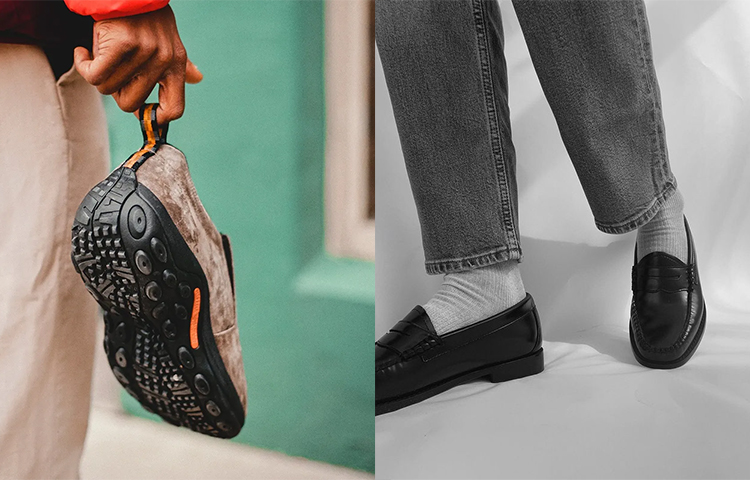 3. Say Goodbye to Odours
As you've read in tip #1, moisture is what leads to unpleasant odours. And, more importantly, this damp environment creates a space for bacteria to thrive. That is why it is essential to deodorize your footwear after long use – especially those workout sneakers – with anti-bacterial deodorizers. 
Although there are many products sold out there designed specifically for the use of removing odour from footwear, you could also make use of home remedies. Some home remedies include sprinkling:
baking soda
baby powder
salt
tea tree oil
inside the shoe and let it sit overnight but be sure to research beforehand if this method is not harmful to the fabric of your footwear. Another helpful home remedy is instead of throwing away your bar of soap once it gets too small, dry it out and insert these small pieces inside your footwear and let it sit. Soap has antifungal properties, and most people throw them away once they get too small to use, now you can reduce waste and have fresh-smelling footwear!
4. Become a Fabric Expert
It is important to understand the different methods of cleaning footwear with different fabrics. What works for your gym sneakers will not necessarily work for your leather Weejuns, in fact, cleaning certain fabrics incorrectly could lead to severe damage. 
For example. When cleaning suede footwear, a special brush designed for suede should be used to brush away any loose dirt. Thereafter you may proceed with cleaning products and finish off with a suede protector.
Leather on the other hand requires polishing and oiling, and you can read about this in-depth in our previous blog.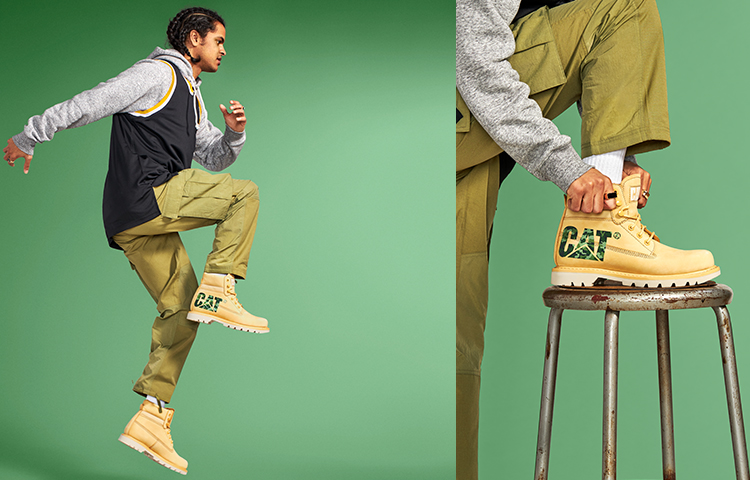 5. Rotate, Rotate, Rotate!
Ever heard the saying 'a place for everything and everything in its place? Well, the same goes for footwear and activities. All footwear is designed for certain activities and many activities require specific footwear. To elaborate, do not wear your suede sneakers if the activity planned for the day includes walking through a muddy environment. If you plan to spend the whole day about in the blasting sun, then perhaps your leather footwear is not the best choice.
And most importantly, keep a good selection of footwear to rotate throughout the year. It's understandable that you'd want to wear your favourite pair of boots, loafers, or sneakers every day, but it is important to give each pair a chance to breathe.
This is where we come in. At Cable & Co., we have a wide selection of footwear to suit your needs! From Merrell trail running shoes, to a classy pair of G.H. Bass Weejuns, to Cat safety boots, our variety will ensure that you have the right pair of footwear for any activity and enough of a selection for regular rotation. 
Locate your nearest Cable & Co. store today and grow your footwear collection with us!