How to Accessorise to Match your Shoes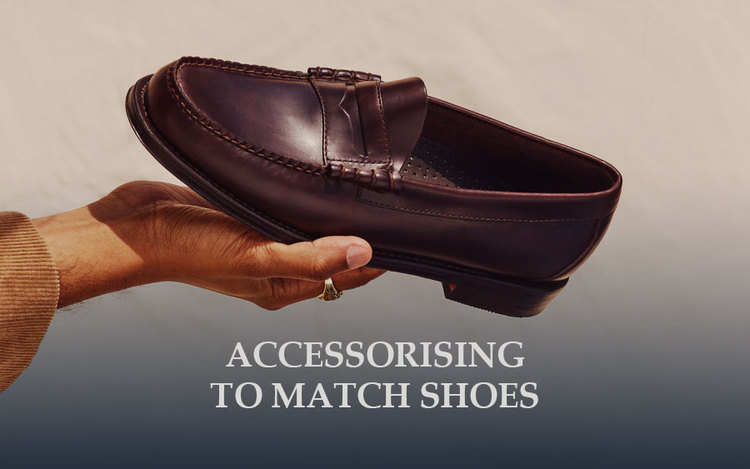 You can buy the fanciest clothing items, but it's how you put them together that counts.
Here's a style inspiration board to help you complement the best in footwear with the best in accessory fashion!
Semi Formal
No other shoe has stood the test of time like the classic loafer.
Most popular in a leather finish, this is easy to pair up with the rest of your ensemble.
Take a timeless brown loafer like the Weejuns II Larson Moc from G.H. Bass & Co., pair it with a brown leather belt and brown leather watch, and you can wear almost any pants and top. The same goes for combos in black or navy blue.
Preppy
Yes, boat shoes are more serious than sneakers or flip flops. But they're not so serious that you can't have fun accessorising them with flair and creativity. 
With Sebago's wide range of colour combinations, you can play around with colourful chino shorts, polo shirts, handbags, and hats.
Get your sailor and seaside vibes going with a blue and white handbag to match the Jacqueline Nubuck or Jacqueline Flags. A straw fedora and blue jeans, on the other hand, will make the Portland Pastel just pop!
Casual
The Cat Risktakers know what's up! 
For a casual look that is fashion-forward, bold and trendy, take inspiration from Shannon Joy and Fresh by Caddy as they pair Caterpillar classics with their casual wardrobe, making use of bright sunglasses, stylish hats, complementary socks, and other closet staples to create the look everyone wants to have.
Sporty
Merrell is the accessory that goes with everything.
If functional comfort is what you're after, you can pair your Merrells with a jeans and T-shirt, or with leggings and sports apparel. They brighten up any outfit, allowing you the freedom to just be yourself without worrying about anything else. 
So get out your favourite hoodies, sweatshirts, tanks and shorts, because with Merrell, you're going to have a blast!
So let your shoes drive your outfits as you accessorise to match them and create stylish ensembles that will turn heads. 
Complete your shoe collection with Cable & Co. – setting the trend for South Africa.