Introducing Cable Safety – The latest work boot line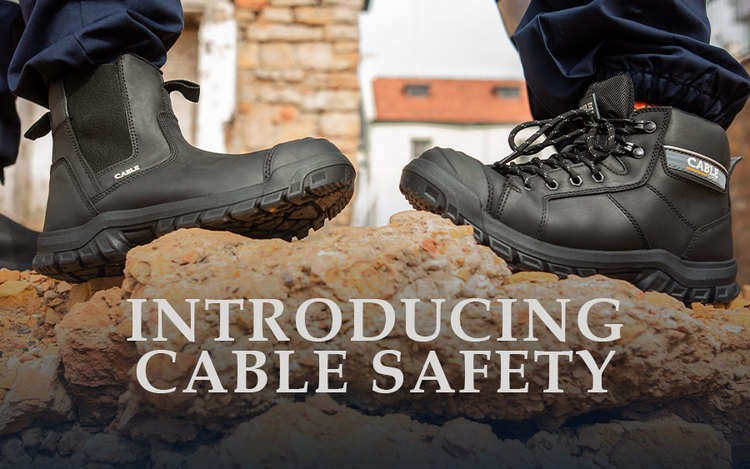 Cable & Co. is all about fashion with function, and function with fashion. That's why one of our greatest goals is to offer footwear that gives you the confidence you need.
Over the years, we have done just that with our wide range of high-quality footwear brands, G.H. Bass & Co., Sebago, Cat Footwear and Merrell – available in-store and online. Now, we bring to you our own house brand, promising safety, durability and comfort borne out of our extensive research and experience in the industry.
If your life and work requires the kind of work boots that can not only protect you, but go the journey with you, then Cable Safety is for you.
Have a look at our inaugural range:
Each of our 4 stars are named after strong materials, metals or minerals, namely, Granite, Cobalt, Zinc and Quartz , and are available in both black and brown .


From Left: Granite | Cobalt | Zinc | Quartz
All of these safety shoes boast all of the protective features you need, in the quality that you have come to expect from Cable & Co.:
PU leather upper and genuine leather outsoles with 4.5mm lug depth – for durability and traction
Padded collar – for ankle support
Achilles notch – for added comfort
Large toe-box area within the steel toe environment – for movement and tarsal freedom
Dual density footbed – for comfort and shock-absorption
Injection moulded construction
Moisture wicking and breathable mesh lining
Some of these work boots also offer a variety of added features that could include one or a combination of:
Rubber toe caps or abrasion-resistant toe bumpers and heel counters – for protection and durability
Combination speed-lacing systems or hook-lacing systems – for adjustability, fit and comfort
Ballistic nylon collars and facing and padded tongues – for durability and comfort
Bellows tongue – to keep grit and debris out
Leather fitting tabs, double gussets, or fitting loops at collar – for ease of fitting
So what does Cable Safety stand for?
Live, walk, and work, with confidence and traction.
With considered design, and high standards of durability, safety, and comfort, Cable Safety footwear has engineered steel-toe shoes, for the diverse life-explorer.
Coupled with the brand's innovative knowledge of what is required in the agricultural, manufacturing, engineering, retail and construction industries from a safety and foot protection perspective. Vital to the life-explorer's aesthetic need for fashion, function, and fit, Cable Safety's dedication to thoughtful design and styling, is paramount, and considered.
Cable Safety's commitment to the life-explorer aims to inspire, dedicating its efforts to equip people to make a notable difference in the communities of the world.
Cable Safety looks forward to walking the mile and working the job with the industrious life-explorer, from factory floor to urban landscape to the rugged outdoors.
Visit your nearest Cable & Co. store or shop online to be the first to get your hands on (in feet in) the coveted Cable Safety shoes.