Men's Formal Footwear Decoded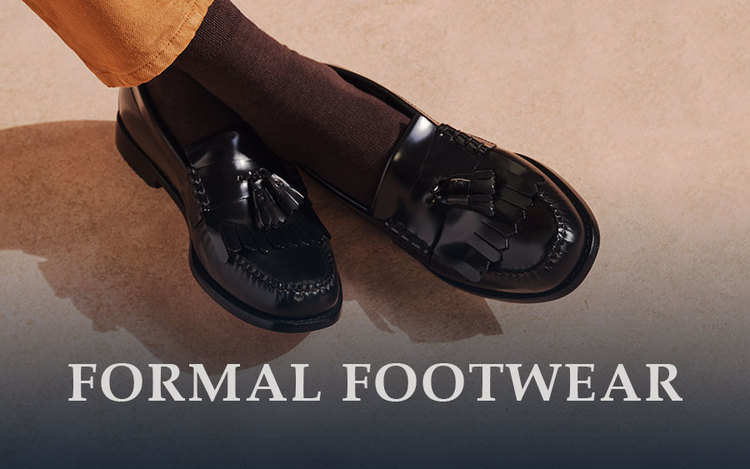 Dress shoes are not as simple as you may think… But they're also not that complicated!
We're decoding all the details and rules around men's formal footwear so that you're always dressed as sharply as you should be. 
Read our guide below.
Dress shoes vs Loafers
The first distinction we need to make when it comes to formal footwear for men is the difference between dress shoes and loafers. While both can be worn formally, they each have their own subcategories which sit at different levels of the formal hierarchy.
Dress shoes are closed, lace-up shoes, most often worn with socks.
Loafers, on the other hand, are slip-ons that show a bit more of the foot and bare ankle and do not have laces.
Now let's find out how to use them to their full potential.
Dress shoes
Dress shoes divide into two subcategories, and all other distinctions can be made on either of the two. These two subcategories are Oxfords and Derbies. 
To the untrained eye, they might look exactly the same, as the difference is fairly subtle. But that's what sets the connoisseurs apart from the amateurs, and what is going to set you apart from the rest. 
Oxfords have what is called a closed lacing system, whereas Derbies have an open lacing system. If you look at the image below, you'll see that the section that houses the laces (known as the quarters) has a different shape on each shoe.
The Oxford creates a 'V' shape because the quarters (side panels with the eyelets) are stitched underneath the vamp (the top front of the shoe). The Derby creates a 'T' shape as it has an open lacing system where the quarters are sewn on top.
The closed lacing system of the Oxford gives the shoe a more sleek and chic silhouette, which in turn renders it more formal than the Derby. That is why a black Oxford is the standard for black tie or tuxedo events.
Now for the fun part. 
Both Oxfords and Derbies can be embellished in a variety of ways. These include:
Classic – This is exactly as described above. It is a plain shoe with either closed or open lacing.
Cap-toe – This adds an extra piece of leather over the toe.
Wingtip – Instead of a straight toe cap, these have the front material in the shape of a 'W' or 'M'.
Brogue – These include ornamentation in the form of decorative dots and markings around the other parts of the shoe, such as the quarters, cap and wingtip.
Whole-cut – Exclusive to the Oxford, this is a rare and expensive style in which each shoe is made from one whole piece of leather, rather than a few pieces put together. It is even more sleek than a classic Oxford.
Bonus – Over and above the Oxford and the Derby, you also get a monk strap or double monk strap, which swaps laces out for a strap and buckle (or double).
Today, there is an even greater variety available as the above styles get mixed with other popular footwear fashion trends. G.H. Bass & Co. have one such hybrid in the Monogram Cup Longwing, a sneaker-style Derby wingtip brogue.
Dress shoes have never been this abundant!
Loafers
Loafers are not only formalwear for hot weather – they, too, have a special place in a man's wardrobe.
And while a dress shoe can be worn with socks showing or covered by a formal pants, a loafer shows off the ankle for an effortlessly well-appointed profile. 
Here is what you can expect to find when shopping for the G.H. Bass & Co. loafer for you:
Venetian – If any style of loafer fits in among the ranks of formal akin to a classic or whole-cut Oxford, it's this one. A simple slipper with little to no embellishment paired with a slim tailored suit pants is more formal than any Derby. The Cable & Co. favourite: Weejuns Venetian
Penny loafer – Affectionately known as Weejuns, these loafers add a strap to the Venetian with a little cut-out big enough to carry a penny in. (Fun Fact: Michael Jackson loved to pair the black G.H. Bass & Co. penny loafer with white socks for his videos and performances!) The Cable & Co. favourite: Weejuns Logan Two Tone
Tassel – The addition of a tassel to the Venetian instead of a penny pocket began as a bespoke commission for actor Paul Lukas by the Brooks Brothers in 1957, because he liked the way tied laces looked on a pair of Oxfords and wanted the same look for his loafers. The Cable & Co. favourite: Weejuns II Larkin Moc
Horsebit – Similar to the tassel, the horsebit loafer sports a metallic embellishment to dress up the shoe – an addition made popular by Gucci before becoming one of the staple loafers to own for a night out. The Cable & Co. favourite: Weejuns Ornament
As with dress shoes, even loafers have seen a new dawn in creative decorations and stylings. The G.H. Bass & Co. Weejuns Larkin Brogue, for example, introduces broguing to a simple tassel loafer. 
You can read more about how loafers are worn in modern and contemporary aesthetics in our blog Style & Loafers around the World.
Inspired to finally get back out there again? 
With your new know-how on dressing to the nines, shop the dress shoes and loafers for your signature style at Cable & Co.